Where do you hang your stockings when you don't have a fireplace mantle?
The last few years we have placed our stocking holders on a bookshelf that was out of the way and the boys couldn't/didn't get into.
We use these stocking holders from Pottery Barn (I just love that we can change out our pictures every year! They were an investment, but I feel like they were worth it since we will be using them for the next 20- 50 years- once we get a house with a fireplace and mantle of course!)
Another shot.
Photo Credit: Pottery Barn
This year we are keeping things REALLY simple since we are in the rental. Since half of our stuff is still packed up and in the garage we decided to only put up minimal Christmas decorations (hard since I LOVE decorating for Christmas!) We only put up one tree this year, pulled out the stockings and hung up a star. We also have a fabulous neighbor who kept asking if we were going to put up lights so we did that too.
But what if you don't have stocking holders (or they are out of your budget right now? Or in our case, we didn't want to take them out and didn't have a good place out of the way of an 18 month old who's nickname is "The Destructor"?) Well my friends, I'm going to share a little secret with you.
When I was growing up we had a fireplace but no mantle. My parents solved the dilemma of finding a home for stockings by being resourceful and using something they already owned. Enter the fireplace tool set. Oh yeah, you heard that right. Check it out! My parents would gather all of our stockings on the tool holder and every Christmas we would wake up to find them brilliantly displayed by the fireplace. If they were overly full we would find them on the fireplace bench. The great thing about using the tool holder is it can hold weight! It's meant to.
Where does your family display the stockings?
Linking up at: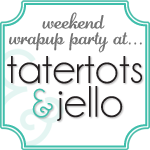 Related posts: